We are happy to announce the reopening of our offices back to face-to-face visits!
Fill out & bring a copy of our Client Information Form to your appointment.
Amid this COVID-19 pandemic, we wanted to reach out to inform you that veterinary practices are considered ESSENTIAL and that we remain open.

At this time, we are allowing one client into the building with their pet. We are still offering curbside appointments for those who prefer it.

All clients entering the building must wear a mask, regardless of vaccination status. Our staff members will also wear a mask for the duration of the appointment.

Since the waiting rooms remain closed, we ask that you call our office when you arrive for your appointment. A nurse will ask a COVID screening question before escorting you and your pet into an examination room.

The examination rooms are thoroughly disinfected between each patient. In addition, we are utilizing True Hepa H13 air purifiers in all our exam rooms. Lastly, contactless credit card terminals will be used to perform the check-out process in the exam room at the end of the visit.

We hope these precautions will allow us to continue the transition back to our "old normal". Thank you for your understanding and we look forward to seeing you and your pet in person!
Veterinary Cardiology Consultants is Michigan's only veterinary specialty practice that is 100% focused on advanced cardiac care. Our hospital is dedicated to the prevention, diagnosis and treatment of heart disease in animals. From the moment you walk in the door, you'll realize the difference. Our patient waiting area simulates a city park, providing you and your pet with a quiet relaxing atmosphere. Our experienced, friendly veterinary technicians will greet you and escort you through your entire visit at our office. We understand that you may be nervous and upset about the diagnosis of heart disease. Our goal is to relieve this anxiety and provide you with information to help you participate in your pet's treatment.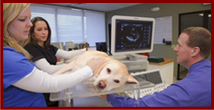 Veterinary Cardiology Consultants expertise combines research, education, and clinical practice to provide innovative and scientifically based treatments for cardiac and thoracic disease. Our cardiologists stay up-to-date with the latest information by attending both human and veterinary cardiology conferences and actively participating in clinical trials. We have over 20 years of clinical experience and provide care for 2,000+ patients annually.